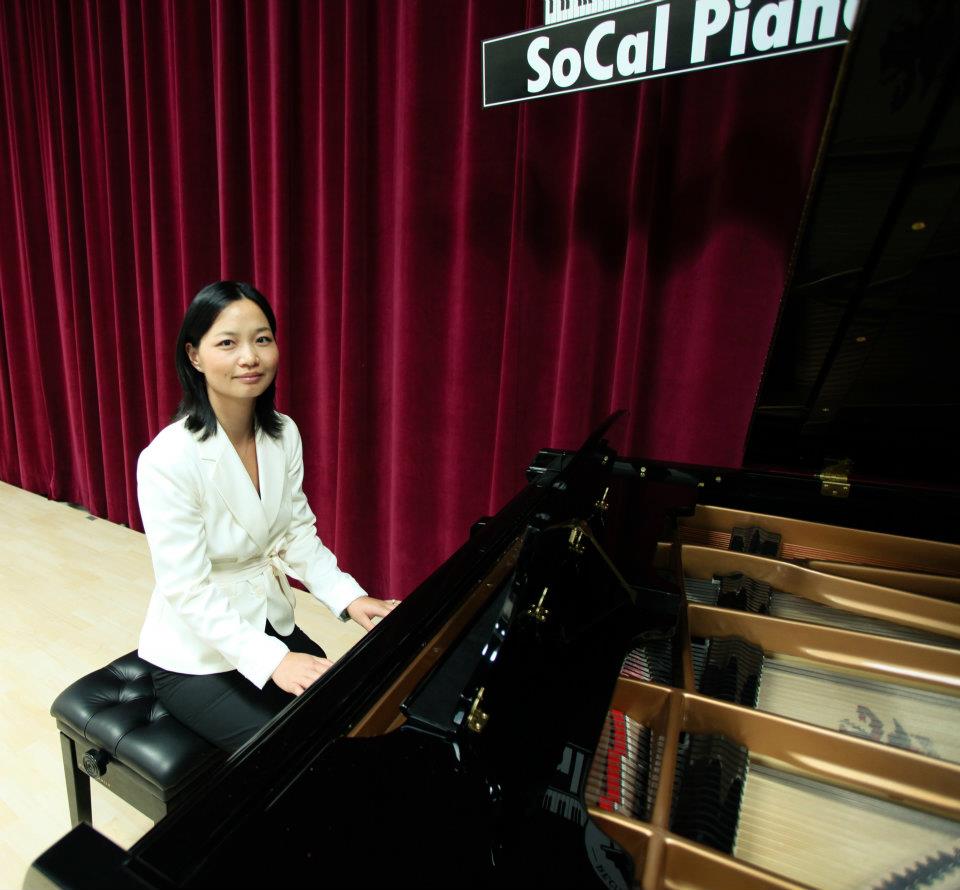 Mei Yin's Biography
(尹梅老师简介)
Mei Yin has received the outstanding piano teacher Diploma of International Young Musicians Competitions in music education and students' achievement.

She is a member of Music Teachers Association of California (MTAC), and currently works as a piano instructor at Bertrand's Music, Greene Music Education Center, and Mei Yin Piano Studio.

She holds an M.A. in Education and a B.A. in Music Education from California State University in San Marcos, and Majored in Piano Performance & Pedagogy at the Central Conservatory of Music, Beijing, China. Mei has over twenty years of professional piano-teaching experience with strong strategies and methodologies for beginner, intermediate & advanced piano students.

Her students boast quite prestigious placements and awards in various competitions and festivals: One was awarded the Gold Medal at the International Young Musician Festival AADGT and participated in the winners' concert at Carnegie Hall, New York in 2019. Another was the Winner of International Young Musicians Competition "AADGT XXV" and invited to New York for professional video recordings in 2019.

Some of her students received the 3rd place and Honorable Mentions at the South California Youth Mozart Festival for 2018-2019 year.Others placed in 4th, 6th, and 7th at the California Sonata Contests between 2013 & 2018, with even more receiving honorable mentions.

Some of Mei's students received the highest possible rating (five) as outstanding students to perform at the annual National MTAC Convention Recitals.Her students received the California State Honors, San Diego Branch Honors, and also receive the highest rating from the official California Certificate of Merit, annually. Mei was appraised as "a fine teacher" by the official evaluators of Certificate of Merit.

Her students actively participate in various official piano competitions and festivals. Examples include: The American Association for Development of the Gifted and Talented (AADGT), International Young Musician Festival, The AADGT International Young Musicians Competition, California official piano evaluation of Certificate of Merit, Helen B. Goodlin Competition, Southern California Junior Bach Festival, California Sonata Contest, Chopin Festival, Popular Music Festival, South California Youth Mozart Festival, the Steinway Piano Competition, and the California Composers Today State Contest.

Mei enjoys teaching very much, and has a strong grasp on early childhood education, child psychology, musicology, music aesthetics, piano pedagogy, and other areas of music education. She respects each student's own pace and makes individualized lesson plans to suit their needs. Mei has a very warm personality and has sincere long term relationships with her students. Her teaching goals are to develop and motivate students' music interests and cheer on every step of her students' progress.
尹老师获得国际青年音乐家比赛的杰出钢琴教师荣誉证书,表彰尹老师在音乐教育领域和钢琴学生的杰出成就。

尹老师是加州音乐教师协会MTAC会员, 她目前在Bertrand's Music, Greene Music Education Center, 及Mei Yin Piano Studio 担任钢琴教师。尹老师硕士毕业于美国加州州立大学圣马克斯分校,教育学专业并精通少儿教育。本科毕业于中国最高音乐学府中央音乐学院,音乐教育专业,主修钢琴。教授初中级和高级的钢琴学生已20余年。

她的钢琴学生在国际青年音乐家节AADGT(美国天才与发展协会)获得金奖,并受邀参加纽约卡内基音乐厅的获奖者音乐会 2019。她的学生是国际青年音乐家比赛"AADGT XXV"的获奖者,并被邀请到纽约进行专业录像 2019。

她的学生们获得South California Youth Mozart Festival的第三名和荣誉奖 2018-2019。她的学生们获得加州 Sonata Contest的第四名,第六名,第七名和荣誉奖 2013-2018。

尹老师被加州官方钢琴考级评委赞为"优秀教师"。她的学生们获得最高评分5,作为杰出钢琴学生每年入选国家级钢琴会议MTAC Convention 进行钢琴表演。学生们每年获得加州钢琴学生荣誉奖,圣地亚哥钢琴学生荣誉奖,在每年的加州官方钢琴考级中获得最高评语Excellent,并被考级评委赞誉的优秀钢琴学生, 钢琴考级通过率100%。

她的学生们积极参加各类官方钢琴比赛和音乐节。例如: The American Association for Development of the Gifted and Talented( AADGT) International Young Musician Festival; The AADGT International Young Musicians Competition; California official piano evaluation of Certificate of Merit; Helen B. Goodlin Competition; So. California Junior Bach Festival; California Sonata Contest; Chopin Festival; Popular Music Festival; South California Youth Mozart Festival; the Steinway Piano Competition; California Composers Today State Contest.

尹老师热爱钢琴教学事业,并积累了丰富的专业钢琴教学经验。尹老师谙熟教育学心理学音乐学美学钢琴教育少儿心理学,根据幼/少儿每个学生的不同特点做出具有针对性的钢琴教学辅导, 注重学生音乐素养和兴趣的培养,和学生建立安全温暖快乐的关系,以学生的每一点进步为目标,深受学生们喜爱。